Product
Filter
/
Filter
Reset Filter
Search By Name
Sort
Price
Size
Display
LADY KEVLAR CARGO WP MC LEGGINGS
Shipping Class : Shipping : 15 CHF
Add To Cart

Fast shipping worldwide

Return within 20 days

Lowest price guarantee

Made to measure clothing

CARGO KEVLAR LEGGINGS (WITH CE LEVEL-2 Knee Pad)
with comprehensive Kevlar® fiber.
Stylish kevlar leggings for women. Safe and secure in traffic with a pants with maximum protection. End of all puffy clothes without riding in comfortable tight leggings. Sits so well on the body due to its cotton-like fabric. May be the most comfortable motorcycle pants to wear when riding a motorcycle. The pants have been equipped with genuine Dupont Kevlar for high safety and mobility. The pants have also been fitted with a breathing membrane that makes the pants waterproof. No longer need to be afraid of the rain but to take part in the hottest pants of the summer now also as waterproof.
An elevator among female motorcyclists who want to wear the nicest and most beautiful. Fits well with all leather textile jackets. Here you get a trouser that is fully covered with reinforced material that protects.
- Internal knee protection pocket with removable CE protection
- Waterproof membrane with breathable function
- Side pocket with zipper and magnetic flap over.
- Optimal high waist - High waist
- Pre-bent leg structures for best fit
- Fully covered with 100% Dupont Kevlar Extra Strength
- Pattern stitching on the knees - Box stitching
- Removable / Adjustable LEVEL 2 CE protection in the knees and hips
- Doublestitch strength - Double stitch reinforcements on the most moving parts of the pants
- seat belt
Wash at 30 degrees (Can shrink 5% on first wash)
Please note that this product is also offered as a custom made and therefore cannot be ordered as a standard size. The price is valid for body size up to 3XL, for larger body size an additional cost of 150 SEK per size exceeds. The additional cost is calculated by a sharkspeed handler after receiving your body measurements. The delivery time is between 12 - 16 working days depending on the seasonal load.
| | | |
| --- | --- | --- |
| Size / size | Waist / Waist - W (cm) | Seat / Seat - C (cm) |
| XXS | 60-64 | 82-86 |
| XS | 64-68 | 86-90 |
| S | 68-72 | 90-94 |
| M | 72-76 | 94-98 |
| L | 76-80 | 98-102 |
| XL | 80-84 | 102-106 |
| 2XL | 84-88 | 106-110 |
| 3XL | 88-92 | 110-114 |
| 4XL | 92-96 | 114-118 |
| 5XL | 96-100 | 118-122 |
| 6XL | 100-104 | 122-126 |
| 7XL | 104-108 | 126-130 |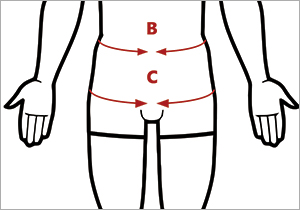 BUY MATCHING PRODUCTS - GET THE FULL LOOK